---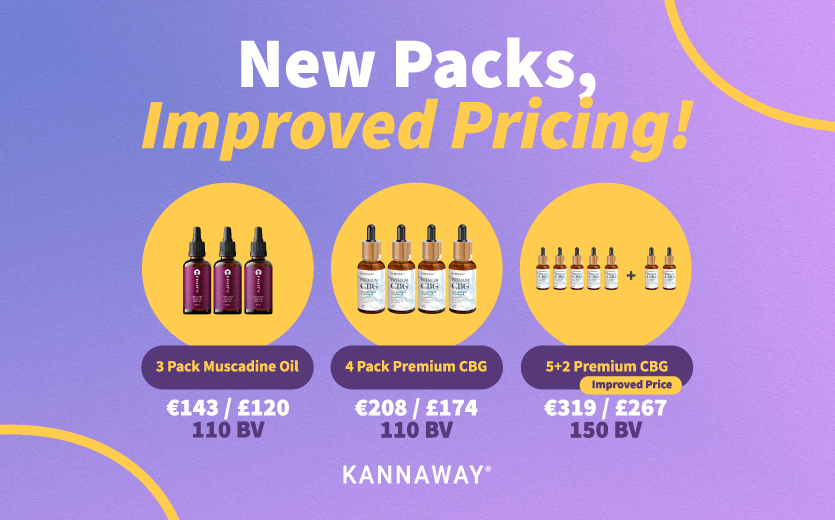 European Exclusive: New Packs, Improved Pricing!
New Packs & Lower Prices Await You! Enjoy our newly launched Muscadine Face and Body Oil in a convenient 3-pack. Or purchase our new Premium CBG 4-pack for mood-supporting wellness. Plus, you can also enjoy reduced prices on our popular Premium CBG 5+2 pack. These new packs handily support your well-being and nourish your skin! These unbeatable deals are too good to pass up. Add them to your SmartShip today!
Valid in: EUR
---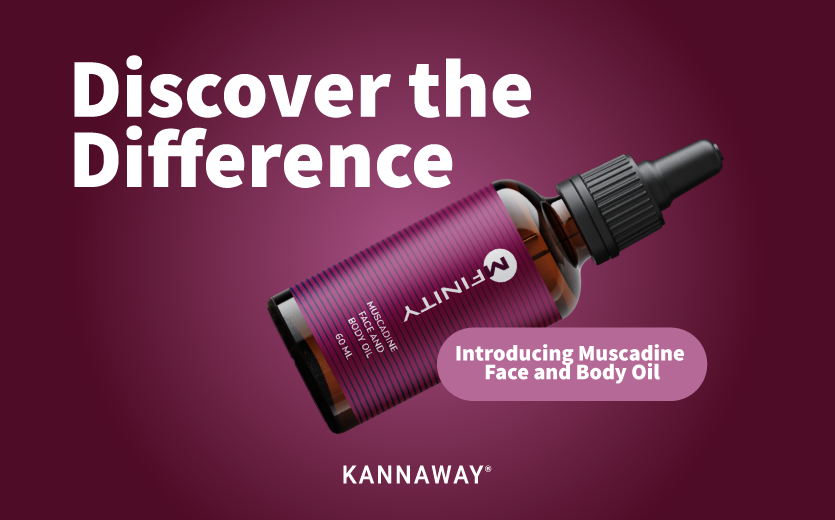 Introducing Muscadine Face and Body Oil to Europe!
We are excited to introduce our latest product, Muscadine Face and Body Oil, a nutrient-dense oil enriched with antioxidants, vitamins A, C, and E, tocotrienols, resveratrol, and omega-3, 6, and 9 Fatty Acids.

This exceptional blend combats the harmful effects of free radicals and helps reduce premature aging, providing your skin with the nourishment it deserves. The quick-absorbing Grapeseed oil ensures your skin stays hydrated without clogging pores.
Valid in: EUR
---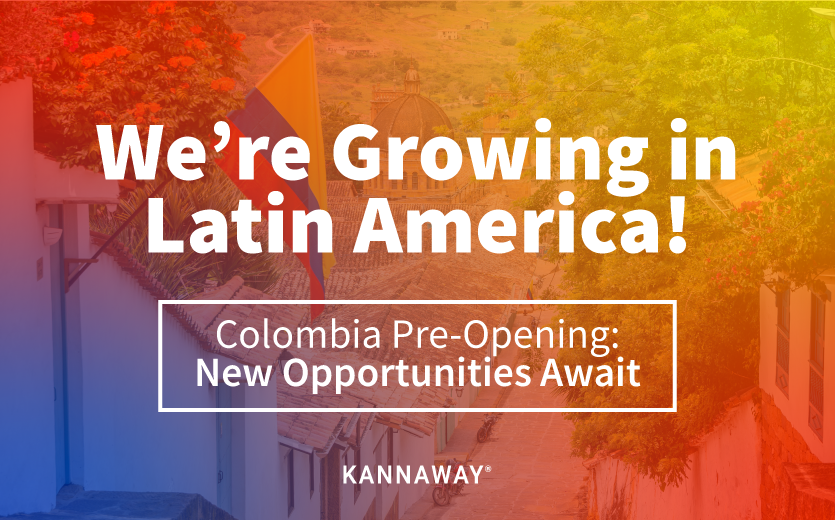 Exciting Growth in Latin America: Kannaway's Colombia Expansion
We're thrilled to announce the Pre-Opening of Colombia, our second Latin American market after Mexico. Colombia has a thriving multi-level industry and entrepreneurial spirit that holds immense potential. Starting August 18th, you can register and buy packages in Colombia through your virtual office. In this initial stage, we're offering a basic product catalog under the "Not For Resale" (NFR) concept, excluding VAT. Shipments will be dispatched every 15 days, taking up to 3 weeks to arrive. Don't forget, you can enroll Entrepreneurs anywhere in the world, so spread the word and be part of this pioneering pre-launch!
Valid in: USA, MX, JP, ZA
---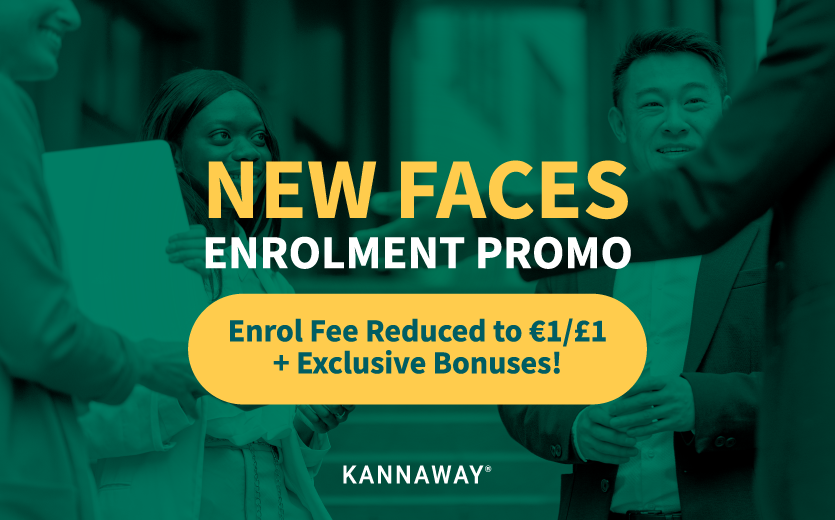 New Faces Promo + Exclusive Bonuses for Europe: Make August Your Best Month Yet!
Throughout August, we're offering a golden opportunity with our New Faces promotion - enrolment fees are reduced to just €1 or £1! That's not all! We also have an exclusive bonus promotion for August, September, and October 2023. Enroll any combination of 3 new Customers or Entrepreneurs, each with a minimum of 110BV, and you could receive up to €200 (£160)* in bonuses! Act now and make August your best month yet with Kannaway!

Valid in: EUR
*BV from Value Pack sales is not applicable. €1/£1 Enrolment Fee promotion expires at 11:59 pm 15th September 2023. Enrolment Bonus promotion expires 11:59 pm 31st October, 2023. Promotions are subject to change or amendment at any time.
---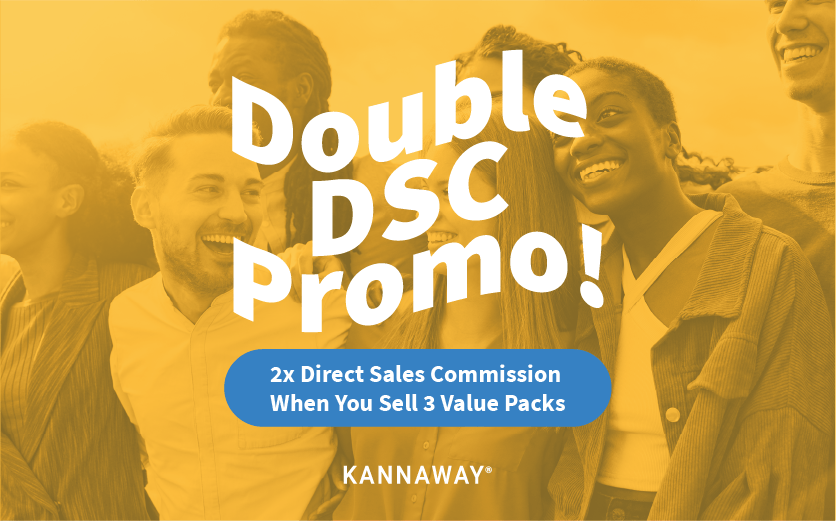 The Double DSC Continues!
Unlock greater earnings potential with our exclusive offer! Place three or more Value Packs and enjoy a Double DSC. Please note that while we would love to extend this promotion indefinitely, it is available for a limited time and restricted to new Customer or Entrepreneur enrollments. Don't miss out on this exceptional opportunity to maximize your rewards!
Valid in: Global (excluding Japan)
Subject to change or amendment at any time.
---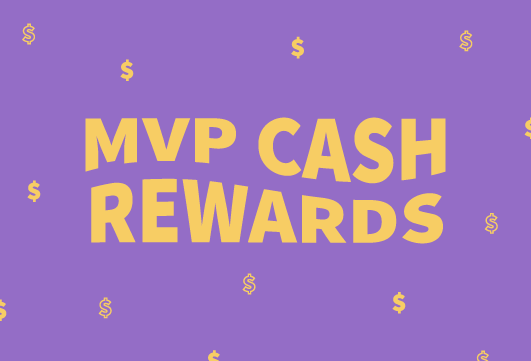 MVP CASH REWARDS
You can be a Kannaway MVP by sharing our life-changing products with your customers and Entrepreneurs. You earn points from each of our products listed below on a monthly basis. When you earn 3 points, you are an MVP for the month!!!
Valid in: USA, EUR, MX, ZA, JA
---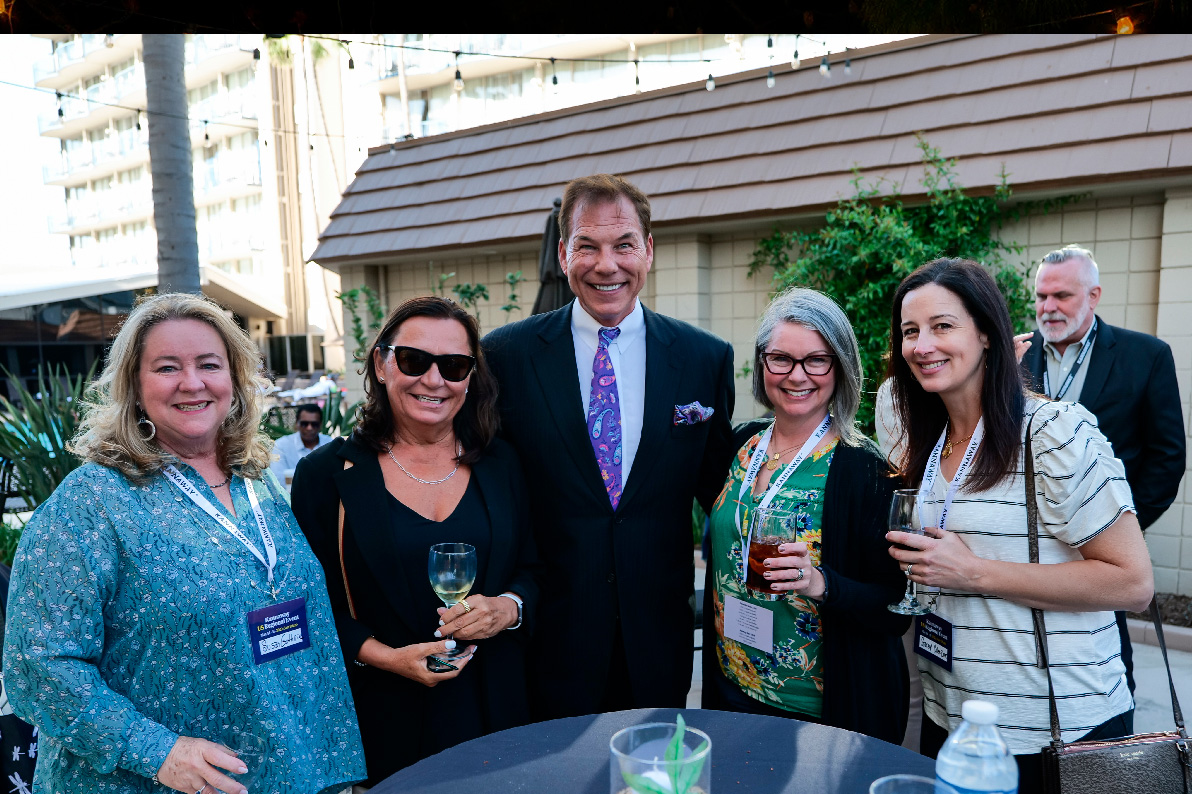 Set yourself up for success
and join Kannaway today!